How to Protect Your Parking Lot from Bad Weather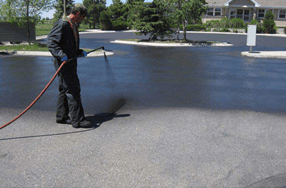 Parking lots are like any structure and undergo wear and tear because of usage and exposure to weather elements. They demand adequate looking after and protections to keep in good shape. The damage is prone to the quality of the surface, the multi-traffic movement and the exposure to the sun. Applied coatings are essential to keep the parking lot protected from the weather elements such as rains, snow, and hailstorm. Failure to protect the parking lot slabs can lead to expensive repair and shorter lives of the structure. Along with the high volume of vehicles crossing a parking structure, weather element too can play havoc with the surface of the parking.
Leaving your parking unprotected and uncared for under the snow and freezing conditions will only welcome more damage. Soon, you will find cracks and holes developing into the parking lot. Severe thunderstorms are experienced in some areas and the hailstorms can damage not just your vehicles but the parking area as well. It is essential to think beforehand and be proactive when taking care of your parking lot. For example keep the parking lot rid of any loose objects such as dirt, litter or any stones or rocks that the snow plows could run over and cause the asphalt to crack.
During the winters and snowy weather, shovel often and decrease the amount snows on the parking lot, as all that freezing, thawing and refreezing of water can cause major damage. Thus, get into the habit of sovereign the snow often. Many people use De-icing agents, but those can be rough on the pavement. For example, rock salt can damage the porous asphalt and cement. Thus, go for a milder product such as potassium chloride.
If you find any cracks or puddles in the parking lot, fill them side by side. If you feel the need, hire a professional to take, as they are experts in locating even the smaller cracks or can locate the preliminary signs of cracking. It is essential to fix those minor trouble spots before they can develop into a major headache. Any snow or water that gets lodged within the cracks can freeze and then expand. The persistent freezing and melting can cause the cracks to become larger and even lead to potholes. Enhance the longevity of the parking lot by repairing and taking care of those cracks. Repairing potholes immediately can prevent any further damage and fix them as soon as possible.
sealcoat parking lot boca raton
Today, the technology behind taking care of parking lot and mending those holes and cracks has advanced a lot. Infrared asphalt repairs can help repair potholes quickly and seamlessly and keep the parking lot safe and protected from the different weather elements. The process soft repair is faster and cheaper as well as environmentally friendly. Polyurethane based deck coatings prevent any long lasting damage against exposure to the environment. Keep you parking lot safe, protected and well cared for against low temperatures, UV exposure, extreme sunlight, high levels of rain and other temperature fluctuations as those weather elements can impose dynamic stresses and can impact the structure negatively. You can go looking sealcoat parking lot boca raton for professional support