Parking lot maintenance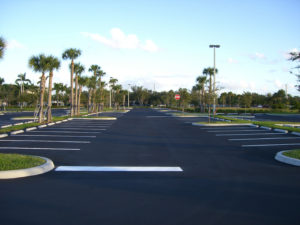 It is essential to take preventive measures as soon as the pavement surface of your parking lot shows any sign of wear or tear. This could be in the form of minor cracking of the blocks, any transverse or horizontal cracks or raveling. Parking lot maintenance is a quick solution to avoid further deterioration of any parking place. It provides for corrective means and ways to repair the defects by sealcoating or asphalt patch repair.A parking lot pavement is typically designed so as to last a minimum of twenty five years if not more. More often than not, due to some issue or the other that goes in their making, they never last their full lifespan and need repair quite early. To avoid this, a timely and appropriate approach will go a long way in keeping your parking area well protected.
Parking Lot Survey
To begin with, it is important to make a survey of your entire parking lot to identify the points which need to be addressed. These could be patch deterioration, cracking or occurrence of potholes on the surface. Once the severity of each defect is ascertained, then a plan should be executed as to how best to go about correcting the defects in the least time possible. For example, if the wear and tear is normal, then preventive maintenance like, seal coat slurry, pothole repair and thin overlays can be adopted to add a few more years to the life of your pavement. If however, the defects are major, then the above step will be just a waste of time and money, since now the need of the hour is reconstruction.
The ideal time to reconstruct the parking lot is when it is displaying extreme indications of distress.This basically involves removal of the whole pavement and exposing the base. The base is then scarified and compacted to provide for a solid foundation. A new coat of asphalt is then laid, of sufficient thickness as decided by your contractor. Another economic way is to use the recycled asphalt. This involves grinding up the existing pavement and mixing it with the base. The resultant mix is then thoroughly compacted and makes for a much better quality base than before, which will offer a similar result than with an asphalt mat.
Whether going for repair or reconstruction, the most vital thing to keep in mind is to ensure that your redesigned pavement has been given an adequate slope. Care should be taken that there should be adequate drainage to prevent standing of water in any place. Enough voids should be in place to offer sufficient expansion and contraction due to seasonal variations. Drainage problems are a major cause of failure of most parking lots and require careful implementation, as any excess water if it gets into the voids will weaken the base of the pavement