Sealcoating Equipment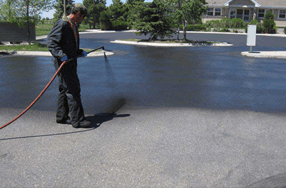 Sealcoating is the application of bituminous liquid mixture on asphalt and there are several benefits of it. The seal coat acts as a barrier against   weathering elements and enhances the life of the asphalt pavement. Sealcoating also lowers the anti-skid properties and friction that is often linked to exposed aggregates in asphalt. Three most commonly used asphalt sealers are acrylics, asphalt emulsion and coal tar. Apart from using the right and suitable Sealcoating material, it is equally important to be aware of the right Sealcoating equipment.
Seal Coating
Make sure to employ industry standard seal coating machines that are specifically designed to mix and apply pavement sealers carefully, appropriately and without sand. The equipment should carry an assortment of high-quality products to take care of seal coating and crack filling needs. Whether you intend to buy Sealcoating Equipment for your business needs or professional purposes, it is essential to buy the right equipment for best results.  Typically, a seal coating spray system and equipment comprises of engine, hoses, pump and spray gun
There are several advanced equipments available in the market, and some of them combine multiple features and thus do away the need of buying several separate pieces of equipment. Sealcoating Equipment often comprises of Sprayers and tanks and sometimes, the fabricators are able to custom build the Sealcoat Machine as per your needs.
A standard Sealcoat Machine boast of certain essential features such as diesel engine, sand pumper, a round tank design, hose and spray wand, rubber wiper blades,  rear wheel direct drive., adjustable rear angling squeegee, power steering as well as an emergency brake. Sealcoating Spray System is moong the popular system for property managers and parking lot owners or those in seal coating business. It is popular equipment as one does not need the experience to operate the machine and moreover it is very easy to operate. All one need to do is start their engine and circulate the seal coat in the tank. All you need to do is start spraying, once it is mixed.
Sealcoating equipment company's will try to convince you into buying the latest models carrying expansive price tags. However, focus on your needs and budget before taking the decision. What really matters is the quality of the sealer coming out of the tip and how evenly is the coating done. Look for top performance, high quality and professional support when buying seal coating equipment.
Browse online and look at different services providers selling Sealcoat Machines that can compare their features and prices. Make avail of special discounts and look for the complete information on your needs of sealant equipment. Always buy your products from a leading manufacturer who has new innovative products at competitive prices. There are seal coating machine and equipment that range from $5,000 to $20. However, you need not spend that kind of money to get the results you are looking for. You can always look for used products to lower down your costs and remain within the budget.
If you need help with your concrete pin piles, you can contact preventivesupport.com