Parking Lot Striping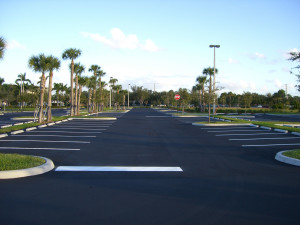 If you drive on an overgrown yard or through the exterior of a building with an unmarked parking lot often, well, needless to say, you are certainly not enjoying the experience. Ignoring the parking lot striping is a big mistake made by most buildings and commercial areas. After all, they are causing a whole lot of inconvenience to their customers. Moreover, if their parking lot is a mess, they are perhaps already losing out to a lot of business. You lose trust and interest of the customers if you ignore your parking lot area. Line striping and pavement markings should be the top priority of your list if you are thinking of improving the appearance of your parking lot.
Get that "WOW" factor in your Parking Lot Striping
It is time to take actions and give your parking lot a new coat of fresh paint with well-marked striping. A fresh parking line striping and new pavement markings can lend a clean, inviting appearance to your parking. However, the benefits extend beyond just the good looks. Those well-marked areas for parking make the area safer for the vehicles and the visitors. You lower the chances of being held liable for damages that might occur on your property.
However, just painting once is not going to be enough or that "WOW" factor will fade away. Inspect the parking lot area on a regular basis and do the needful. The parking lot striping is sure to wear away over time, and this is why re-striping is essential. The paint applied to the parking surface begins to deteriorate soon because of the heavy traffic.
The precise markings and striping
The specific pavement markings and parking lot striping will rely on the configuration of the parking lot, the local ordinances and the amount of traffic. The markings must be ADA-compliant, and there should be dedicated parking spaces for the handicapped. There should be special pavement markings or curb to indicate fire lanes Place arrows to indicate the direction of the traffic and well-defined areas for Pedestrian crosswalks. Every parking lot must have No-parking areas, and there should be special markings, such as speed limits and stop signs.
Make optimum use of well-defined parking spaces and pavement markings to create a more organized appearance. The parking lot looks a lot a cleaner and welcoming. The drivers know exactly where to park, and there is no confusion as the navigation is a lot more easily. A good parking lot gives a great impression of the owner of the property and the commercial areas. It means one takes pride in their property and are concerned about their visitors and where they should park. Paying attention to small details creates a safe and attractive place for everyone to park their vehicles.
Whether you own a commercial property, manage a retail or live in industrial or residential areas, get in touch with a reputed pavement maintenance company who can help you get the desired look for the parking lot. The crew carries the expertise to offer you the quality results at competitive prices.
Call us now (561) 586-5655 for our parking lot striping service in Boca Raton