Parking Lot Striping – Practical and Attractive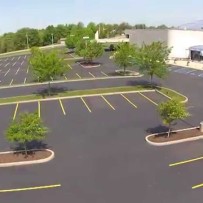 From small parking lots that just need a few parking spaces designated to large lots that need hundreds of spaces, special area designations, traffic flow and more. Preventive Maintenance Support Services Company are the experienced experts who can make your parking lot look great!
With our tough weather, parking lots need to be re-striped from time to time. When you see people parking at odd angles, it's time to re-stripe. We have the specialty equipment and years of experience to make your parking lots look exceptional.
We use premium striping tape and machines that make your lot look neat and clean. Now you can promote safety while having a parking lot that reflects well on your company.
Remember, your parking lot is one of the first things customers see when they arrive at your location. First impressions are lasting impressions. We can help you get that terrific positive impression with fresh, clean, neat parking lot striping.
We create crosswalks, stop bars, loading-zone markings, and pickup areas for customers or vehicle boarding. Our striping can show pedestrians where to walk, when to give right-of-way to traffic, and areas that should be avoided.
Contact us today to schedule your parking lot striping.