Expert Parking Lot Pothole Repair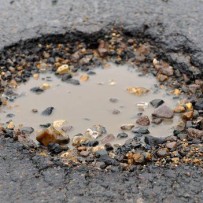 Ouch! Hitting that big pot hole jars your car and sends a hubcap rolling across the parking lot. Don't worry. We can fix it. Preventive Maintenance Support Services Company have repaired countless parking lot potholes since we started way back in 1994.
Asphalt is basically made of sand and rock. Over time it dries out and becomes brittle. More sand comes lose and pretty soon it starts to wear. One big rain and you've got a parking lot full of potholes.
That can frustrate customers and cause employees to grumble. Let PMSS fix your parking lot potholes. We have the necessary equipment and long experience to do the job right. Our team can go to work and have those pot holes fixed fast.
Our salty air and hot sun wear down asphalt. Add to that, asphalt is a petroleum based substance. When gas, old, and transmission fluid inevitably fall on your parking lot, those things eat away at your it. Pretty soon, you've got potholes.
Be sure to call us early so we can address small potholes before they become big, dangerous, and more expensive to repair.
Call us for your no-cost discussion and quote. We can make your parking lot look great at a cost your business or organization can afford.