Parking Lot Handicap Accessibility (ADA)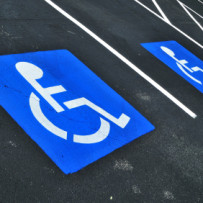 We can help you meet handicap accessibility requirements according to ADA standards. Preventive Maintenance Support Services Company is thoroughly familiar with ADA Network standards concerning minimum number of spaces, clearance heights, and much more.
Now you can rest easy knowing your parking lot is safe and in full compliance. Many of your customers will appreciate your parking lot has properly created and marked handicap accessibility.
We have the parking lot striping expertise and capabilities to correctly build your parking lot handicap accessibility.
This is a necessary and desirable part of having a parking lot that is convenient, safe, and impressive to customers. Your handicap accessibility is one more thing that shows your company or organization is professional and truly cares about your customers.
Please contact us for a full discussion of your parking lot handicap accessibility needs. We can make suggestions or create solutions to bring your parking lot into compliance. We can also do repairs or build new areas.
We look forward to working on your parking lot. Call today for your no-cost quote and no-obligation consultation. Rest assured we always give 100% effort to make you one of our thousands of happy customers.