ADA Compliance for Your Parking Lots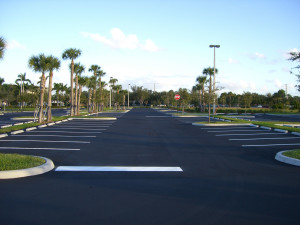 Commercial areas and multiple buildings ensure adequate parking facility and accessible entrances. There can be huge parking spots with multiple entrances and options for people to park close to the commercial areas. There are new regulations set by the U.S. Department of Justice (DOJ) under Americans with Disabilities Act or ADA. The state and local governments have to abide by the new rules and ADA Standards so as to meet the accessibility requirements for buildings and facilities.
The Americans with Disabilities Act (ADA)
ADA is a Federal civil rights law that forbids the barring of people with disabilities from everyday activities, such as watching a movie, having the car serviced or shopping at the store. The requirements for the law went into effect from1992, and the new construction projects are repaired to meet the minimum standards and the firm requirements. There are certain criteria and procedures to make the parking lots accessible for the individuals with disabilities. The parking spaces for the disabled should have the shortest accessible route to the facility entrance and located closest to the accessible entrance. Moreover, the parking lot should be on a more level ground, and the accessible route should be without nay curbs and stairs. The slope should be firm, stable and, slip-resistant.
There are strict requirements for the new construction projects and these are repaired to meet minimum standards. The existing buildings and facilities not planning to undergo any alterations or modifications are considered a bit differently. The local and state buildings and agencies offering services and activities need to ensure that people with disabilities are able to access the buildings easily and participate in the activities. The commercial facilities and private businesses to remove any barriers and make structural improvements in order to follow ADA Standards. Restaurants, banks, retail stores, parking garages and other commercial spots should ensure ADA compliant parking lot.
Higher visibility and right signs are essential. For example, van-accessible spaces should include additional phrases and identified by signs. Each parking lot must reserve 25% to 100% of the available parking for individuals with disabilities. While many current and small businesses may not find it possible for their facilities to be completely accessible to the disabled, there is a lot that can be done without much difficulty and improved upon without excessive expenses. Those physical architectural barriers can limit the movement or accessibility of people with disabilities. For example, too narrow parking spaces or steps at the entrance, round doorknobs, narrow aisles are some of the architectural barriers.
It is essential to maintain the parking lot and outdoor spaces as they can be challenged because of weather conditions and traffic. Parking spaces and routes should be well maintained and kept free of ice, leaf build-up and snow. ADA establishes those standards to ensure that those with disabilities get an easy access and adequate parking facilities. There might be some requirements of several state and local governments that can be more specific in some ways. The focus is on providing greater accessibility regarding distance, parking fees, and convenience.