Choosing commercial seal coat contractor
A poorly maintained driveway and an uncared for parking lot can become a real eye sore of the property. If you then decided to seal coat your existing  driveway in order to give it an extended lease of life and improve the ambience of the place, then you would be tempted to choose an inexpensive seal coating service in your vicinity. But, before you move forward in the selection process, the primary thing you must look for is value for money. Many commercial sealcoating contractors offer a wide range of services at promotional prices. This may compromise on the quality of service offered and leave a mess behind after the job is done. It is for this reason, that most homeowners, opt for a professional seal coating contractor to protect their asphalt driveways and parking lots.
Before choosing a proper seal coat contractor, it is important to understand that there are a variety of sealer materials in the market as are the different ways to provide a seal coat. If your chosen engineer is reliable and efficient he will gladly answer all your questions to demonstrate his professionalism.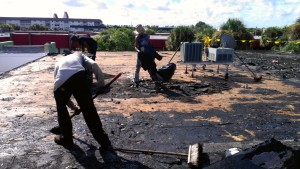 Commercial Sealcoating Contractor
Some of the important things to consider when choosing commercial sealcoating contractor are listed below
Experience
This is a highly important factor in seal coat works. A list of jobs successfully executed, a project portfolio and references should be thoroughly checked. An experienced contractor, with a sound customer base will impart confidence in yourself that your parking lot is in safe hands.
Working cost
A fair and transparent contractor will always put forward a free and realistic estimate of the project. This important step will go a long way in instilling confidence in that person. All rates will be given item wise and he will gladly allow you to oversee the work and suggest changes. A contractor who gives an all inclusive bid is trying to hide his savings on materials.
Use of material
A good seal coat contractor will use proper materials that can withstand weather, oil and traffic damages. The sealer he uses should have a history of proven performance in the seal coating industry. You, yourself, may also be not well informed on these points, but a reputable contractor will be able to justify his product and brand selected.
Mix design
This again is a relevant question to ask your seal coat engineer. The designed mix should never have more than 40% water and have sand in it as a protection from skidding, glare and wearability. He should offer the mix design to you for your study without hesitation.
Licence
Do not hesitate to ask for proof of a valid licence. If any doubts, investigate into the claims put forward.
Time schedule
This is the most tricky part of a seal coating contract. Weather conditions play an important role in seal coat applications and can only be carried out best in warm and sunny conditions. A competent contractor will coordinate timings with you, so that even if the weather does become an issue, he will work hard to get the work rescheduled and completed as quickly as possible.