When Should You Sealcoat or Repave Your Asphalt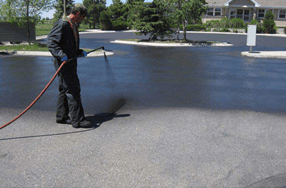 It is essential for the homeowners to understand the significance of maintaining their property, parking area and pavement. It is not only important to seal coat or repave the asphalt surface, but also know when to seal coat it or when to repave it. One wonders what to do when that see those cracks, potholes, and depressions on the worn asphalt driveways and parking lots. After all, it is not easy to come to the most cost-effective and durable solution for the property managers, homeowners, and real estate owners.
The driveway and the parking lots take a toll due to the years of usage, heavy traffic and weather elements such as sun, rains, and snow. The asphalt surface can fade, get discolored and even develop cracks and potholes. The asphalt driveways can fade to gray over time, and no seal coat can bring a concrete driveway back to white.
The issue of water to sealcoat or whether to repave has been debated for decades in the industry.  After all, both carry lasting effects and often complement one another.
 When to seal coat
If you notice basic discoloration, any fading and developing minor cracks in the driveway, then you can think of sealcoating your asphalt. However, before taking any action, get a professional sealcoating team to assess the driveway and make sure that it is the right decision. Sealcoating in a timely and efficient manner can extend the life of the asphalt driveway as well as enhance its looks dramatically. Sealcoating is a great option to improve and strengthen the asphalt surface. You should go for sealcoating for any basic discoloration, fading and minor cracks in the surface that are not asking for a total repaving.
When to repave
 At times, you notice a significant damage to your driveway with broken areas and huge cracks. Obviously, the damage can be repaired with sealcoating and perhaps it may be time to repave. You cannot fill the big and prominent cracks with sealcoating materials. Moreover, if you have already sealed the asphalt surface multiple times over the years, it is time to repave. Look for "Alligator Cracks" that would mean a new asphalt, as the damage is too severe for sealcoating. Perhaps getting the driveway sealed too many times over the years is causing the "alligatoring" effect. If you come across potholes of different sizes littering the parking lot, repaving becomes necessary.
Whatever option you go for, make sure that it is the right decision and taken at the right time. Look for an expert company that offers excellent workmanship and promotes accountability. The tram should carry experience and expertise so as to make the proper assessment of the state of your driveway. Let them decide if the driveway needs to be repaved, repaired or sealed. Use quality products and workmanship for repaving and sealcoating. Before the asphalt driveway gets cracked and eroded further, take action and give it the treatment it is asking for. It is easy to repair when the damage has just begun and apply topcoat or fill in the cracks.