Foundation Damp Proofing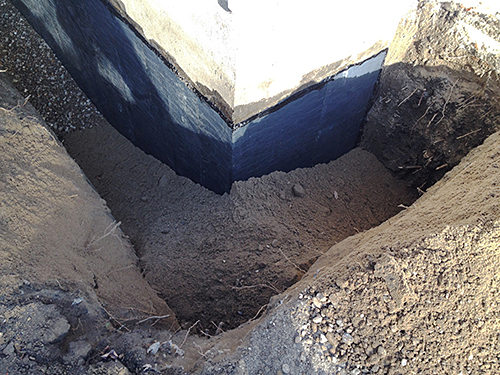 A house which design having a basement underneath, it requires special treatment during the construction, especially in relation to the foundation and walls. One of the special treatment that will be received is foundation damp proofing. Damp proofing is a common term that covers methods and treatments used to stop damp from being absorbed through walls or floors into the interior of a property. Damp proofing is basically the treatment of a surface or installation to resist the passage of moisture caused by differences in moisture content, vapour pressure and temperature across the basement envelope in order to prevent accumulation of water against the outer surfaces of the envelope (walls and floor slab).
Damp proofing is essentially a coating, usually asphalt-based, that is either sprayed on or hand applied to the outside of the wall. Though less frequently recommended in modern residential construction, it is still an acceptable procedure of treatment in many situations. The drawbacks include an inability to cover larger cracks or holes left by form ties and the potential for damage by coarse or careless backfill. Damp proofing can supply adequate and long-lasting protection for many crawl spaces and basements, if it also equipped with proper surface drainage, correctly installed foundation drains at the footing and the absence of hydrostatic pressure to drive water infiltration.
Any property can be subject to damp problems, particularly older properties which may have been constructed without a damp-proof membrane. Whether it's rising damp or penetrating damp, it needs specialists who are experts at identifying the types of damp within a property as well as potential problems to examine and proposing required treatment.
Concrete as the main materials for foundation basically is porous by its nature. Foundation walls will condensate much in a similar way as an ice cold glass of lemonade does on a hot summer day.  This is due to moisture in the soil which rests against the foundation walls in the ground.  Modern construction detail normally includes an asphalt based coating, usually applied on the exterior by spray or roller, against the bare concrete walls.  The target of damp proofing is to prevent water vapor permeating the foundation which can result in condensation on the interior of the foundation walls.
Foundation Damp Proofing
Foundation damp proofing involves the installation of a plastic foundation wrap, or membrane / air-gap membrane, installed onto a waterproofed foundation wall. A proper membrane is configured to facilitate the flow of water, in proximity to a foundation wall, to the weeping tile. Also, the membrane provides a barrier to retain wet soils from being in continuous contact with the exterior foundation wall surface.
It is worthwhile noting that foundation coatings which are not elastic or flexible, it may also be considered as damp proof coatings; in fact, such sprayed-on coatings are the norm for newly constructed foundations in Ontario.
It is a common misconception that foundation wrap will waterproof a basement wall thus preventing leaks; this is not the case as the membrane is not impervious to water at all of its edges. Only properly applied elastic foundation coatings will adequately waterproof a foundation wall.