Contry Road Stripping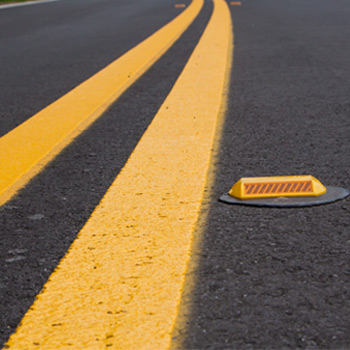 Road surface marking or road striping is any kind of device or material that is used on a road surface in order to convey official information; they are commonly placed with road marking machines (or road marking equipment, pavement marking equipment). They can also be applied in other facilities used by vehicles to mark parking spaces or designate areas for other uses.
Road surface marking is important because it conveys official road information. They are used to delineate areas for different uses, such as in parking spaces and other designated areas for the use of loading and unloading.
On paved roads, road surface marking is essential in conveying direction and guidance to drivers and pedestrians. The uniformity of these markings and striping is absolutely imperative in avoiding confusion that can cause hazardous accidents. The standardization of these official road markings is a responsibility carried across all borders to help motorists and pedestrians understand the language of the road wherever they may be.
As road surface markings are used on paved roadways to provide guidance and information to drivers and pedestrians, uniformity of the markings is an important factor in minimizing confusion and uncertainty about their meaning, and efforts exist to standardize such markings across borders. However, countries and areas categorize and specify road surface markings in different ways — white lines are called white lines mechanical, non-mechanical, or temporary. They can be used to delineate traffic lines, inform motorists and pedestrians or serve as noise generators when running across a road, or attempt to wake a sleeping driver when installed in the shoulders of a road. Road surface marking can also indicate regulation for parking and stopping.
Road Stripping
Road striping in the yellow lines along road edges is used nationally to indicate "No Standing" areas not otherwise marked by signs. Solid white lines are also used to indicate kerbside parking, pedestrian and bicycle lanes, and other kerbside features.
It isn't as simple as just laying down road paint and going home. There are many factors that have to be taken into account when choosing the right road paint for highway striping, parking lot striping and airport striping. These are a list of conditions that are taken into accounts such as temperature, material type, sealant, dry time and amount of traffic.
Road marking is vital, not only for inside the urban areas, as well as in its surroundings transportation and related facilities. Road striping in the country is one of the challenging work. Those conditions above needs to be considered in planning country road striping.
Today, road markings and striping continue to serve a very important role in daily traffic flows and road designations. Not only do they promote navigational ease and efficiency, they also enforce road safety and environmental awareness among many drivers and pedestrians.