Asphalt Sealcoating Cost per Square Foot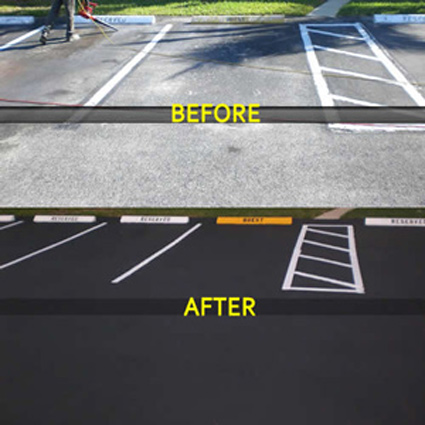 In short, the average cost to seal coat an asphalt parking lot with either asphalt or coal tar emulsion pavement sealer ranges from $0.14 – $0.25 per square foot.
But, what factors affect the price per square foot? Here is few factors influence the cost. Firstly is mobilizations, which is a number of project phases can be completed to minimize disruption to customers/tenants. Secondly is cleaning and preparation, on how dirty the parking lot is and how much cleaning will be involved using the walk behind air blowers and steel wire hand brooms. Pavement sealer requires asphalt to be 100% clean to adhere/perform properly. A number of oil spots needs preparation and priming with a latex based oil spot primer
Thirdly is the layout of the parking lot, wide open square asphalt parking lots and interior roadways without a lot of landscape islands, turns and other chopped up areas. This then will determine the application of the sealing, when pavement sealer can be applied with a distributor truck spray bar making a 10′ pass at a time versus a hand-held spray wand applying sealer in a 3′ pass at a time.
Lastly is the size of the asphalt parking lot to be seal coated. With all things being equal (clean parking lot, 10 miles from office etc) theoretically it takes the same amount of time for a 4 person seal coating crew to seal coat a 15,000 sq ft open Burger King parking lot working in sections that are done to seal coat a 60,000 sq ft closed office building parking lot on a Saturday.
If you need patio deck service, you can contact preventivesupport.com
Asphalt Sealcoating Cost
You need to understand the cost and risk for your consideration associated with using a professional seal coating contractor. Another issue that dictates price is whether or not you are using a professional seal coating contractor. Professional seal coating contractors have a fleet of equipment, backup equipment and support equipment to complete your project in a timely manner.
In addition, a professional seal coating contractor has the necessary overhead to include liability, automobile and workman's compensation insurance, they hire a legal workforce which is paid "on the books" with necessary withholding taxes withdrawn from their paycheck and they will have to cover the costs of a fleet of professional equipment built by leading industry manufacturers.
Manufacturing which fabricates equipment which is capable of applying a thick pavement coating with silica sand and rubberized latex mixed for the longest lasting application, not 55-gallon drums, 5-gallon pails or square plastic totes with a trash pump system which cannot properly mix the sealer or apply a sealer mixed with sand and latex. Surprisingly, some pavement sealer manufacturers sell and or encourage the use of these types of setup knowing fully, they cannot apply their own manufactured pavement sealer to even their most minimal mix designs or application rates.
With the rising cost of coal tar and asphalt emulsion raw materials, fuel, insurance rates etc, if you are receiving prices for seal coating for a 100,00 square foot / 11,111 square yard project under $0.14 square feet / $1.26 square yard, you are most likely going to receive a sub-standard project when complete. Some practice that a contractor work cheaply includes cut corners and cheat without the customer knowing, such as spray applying 1 coat of pavement sealer instead of 2 if the customer is not present to supervise the job, diluting the material with excessive amounts of water, not mixing latex or silica sand with the pavement sealer. In addition to that, something a customer has no way of verifying, using low cost labor found at day labor organization locations. You must keep in mind, if a person working on your property gets injured and is not covered by workman's compensation insurance, you may be held liable for all their medical expenses. Thus, it is extremely important that you choose trustworthy and professional contractor to do the job.