Sealcoating To Preserve Your Parking Lot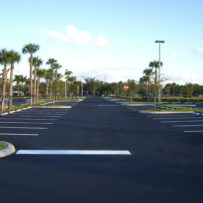 Parking lot sealcoating is an essential part of maintaining your valuable and very important parking lot. Your customers and staff expect a parking lot that is in good condition. Cracking and degradation reflects badly on your business.
Preventive Maintenance Support Services Company are sealcoating experts, having been leaders in the industry since we began more than 20 years ago. We have performed quality parking lot sealcoating for businesses and organizations all over our area.
Asphalt is an amazing surface, but it has its weaknesses. Sunlight and UV radiation breaks down asphalt. Here in the sunshine state our parking lots can take a beating.
The other factor that is tough on asphalt is salt and petroleum products. Being located right on the Atlantic, we get plenty of salt. Then, of course, having gas and oil drop on your parking lot is a fact of life.
The bottom line is you need to have your parking lot sealcoated to protect and preserve it. Contact us to see just how affordable professional sealcoating is.
We will be happy to provide a no-cost quote and a no-obligation consultation. Now you can get the sealcoating your parking lot needs done right, on time, and at a cost you can afford.