How to Change Gravel Surface into Asphalt Pavement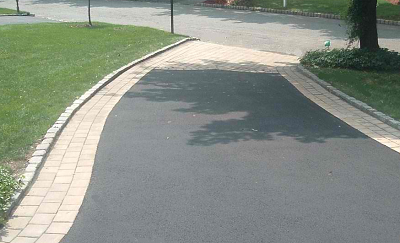 One of the cheaper ways of paving a driveway is to apply crushed rock or gravel over a graded and packed dirt bed. However, for those who already have a gravel driveway and want to pave over it, the best option is to add hot-asphalt seal-coat layer which is followed by a layer of crushed rock.  However, keep in mind that this is not a DIY project and you will need professionals to work here. Read on to get more info on how to change gravel surface into asphalt pavement. Go for the easy and fast installation and ensure that the rustic look matches your needs and budget.
Change Gravel into Asphalt Pavement
Gravel is one of the most inexpensive paving options. The gravel driveway will take less time and can be used right away once installed. Maintenance is minimal but one must keep in mind the costs to maintain it over the years. Gravel can sink because of environment and weather conditions such as snow and rainwater. It can be difficult to remove the snow and the much used Gravel driveways and parking lots are more prone to developing ruts, cracks and holes. Dust, debris and dirt can accumulate and add to the weathering. For those facing such common issues arising with gravel, the better option is to switch to Asphalt.
Converting a gravel driveway into asphalt pavement is a simple and straightforward process.  As mentioned before, this is not a Do it yourself project, so hire a reputed Contractor for the conversion. Make the choices based on reviews and customer feedback, as well as the experience and expertise of the Contractor with asphalt pavement needs.
The contractor will carefully examine the site to determine what steps to take and what preparations to do parking lot resurfacing. As water is one of the major enemies of asphalt pavement, he should keep in mind as to how to manage it best before paving begins. Once the water runoff has been taken care of, the contractor will lay the asphalt pavement sub-base that will offer a stable surface for the final surface of the asphalt pavement and will also act as a frost barrier and lower the winter damage that is caused by freezing and thawing cycles during the winter.
The least thickness of the sub-base is approximately 4 inches, and the final thickness will be decided based on how the pavement will be used. For instance, a normal driveway will require 4-6 inches of sub-base but an asphalt driveway with heavy traffic will need thicker and deeper base. The other essential aspects of asphalt pavement installation are the use of quality materials and a reliable installation that can work on the climate, drainage and surface needs for the best results. An effective installation and use of high quality materials are must for the best results. The team has to keep in mind factors such as proper surface preparation, timelines, and the installation temperature and to produce the best and long-lasting results possible.
A little more care and investment on the new asphalt parking can enhance its life with crack filling, regular seal coating and pothole repairs. An asphalt overlay can increase the lifespan of a surface easily by five to ten years.
If you need concrete pin piles service, you can contact us as well.